Convert Word to HTML
2013-09-20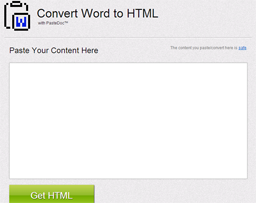 Need to convert Word content (or other rich text content) into HTML? Need to do it quickly and easily? Without the riffraff?
Good to hear! Try my new site, PasteDoc.net where you can convert Word to HTML quickly, easily, and safely.
Quickly and Easily Convert Microsoft Word to Clean HTML!
I warn you, though. It has only a single option... "Get HTML". I've made it as simple as possible. If you need something more complex, try one of these I guess...